Routes

Route 15: Orihuela - Beniel - Orihuela (Page 1 of 2)
Route Card

Dowload in PDF format
Download GPS track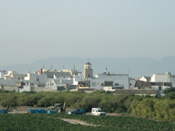 Access by train: Orihuela RENFE Station.
Difficulty: Low.
Drop: 40 m.
Distance: 18.90 km.
Type of terrain: 10.20 km dirt and 8.70 km asphalt.
Train schedules: www.renfe.es or at Tel. No.: 902 24 02 02.
Cartography: Spain's Military Map, scale 1:50,000, pages 27-36.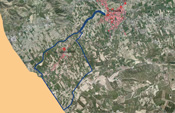 Map of the route.

Pedalling along borders unknown to the very river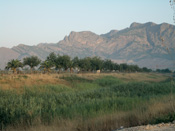 The Segura river and the Sierra de Orihuela.Coming out of Orihuela, we go up the Segura river along the left margin, taking us along a pleasant route to Beniel, the first town in Murcia. Here we can admire the hills of Mojones Reales, known as the "Pinochos", appearing on the town´s coat of arms and which in the Middle Ages marked the frontier between the reigns of Castile and Aragon. Still today, they mark the limits of Murcia and the Valencia communities. In the XVII century hydraulic canals and works were used to drain this marshland zone and avoid frequent flooding, thus giving birth to this productive farm land on which fields we recognize the crops stuffing our markets. The modest houses and people that we encounter remind us of scenes from other times and other places.
Next Page