Introduction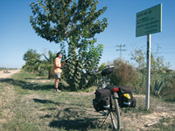 Cycle tourism is a way of getting acquainted with our natural and cultural heritage, through the use of an ecological, practical, fun and cost-efficient means of transportation that also helps to maintain our physical shape. This way of travelling is already a common practice in other European countries, and in ours is also becoming quite popular every day.
In the province of Alicante there is hardly any information available on cycle tourism routes and itineraries to encourage people to use this means of locomotion. Where to go? How to connect towns with other towns? Where are the easy routes, away from the hassle and danger of traffic? What unique places and spots can be visited? A guide like this becomes important for this reason, as it is specifically designed to help you cycle with ease across the different regions of our province, and thus discover in a different and enjoyable way its fields, its towns and its people.
The routes described are not for road or mountain biking, but rather for excursions or tours where the physical effort is not as important as the cultural and tourism experience, as well as the enjoyment of the landscapes and places that keep their enchantment alive. One of the purposes of this guide is to awaken interest in our lands, their culture, history and traditions… without trying to deepen too much into the subject (as there are other works available with that goal) we simply seek to provide a few brush strokes so as to locate and create an atmosphere for the routes. Spreading mostly across secondary roads or country lanes and pathways with low traffic density, they providethe chance to explore in a relaxed way the different areas they go across.
So that readers not used to pedalling and entire families may have access to them, the proposed routes -with some exceptions noted- have not a considerable drop. Taking this aspect into account is a great challenge when referring to the province of Alicante, considered one of the most mountainous in Spain. However, the expert biker may also benefit and find his/her hobby enjoyable accompanied by their couple, children or friends. And if training is your goal, by choosing the highest-level routes or combining a number of them you will also have the option to practice this sport in quiet spaces.
I have sought variety, so next to short morning tours you will find longer ones to be covered in a day, and even a number of get-away routes for an entire weekend. Thus, according to the physical condition and the time available to each one, there will always be an option to choose from to satisfy all preferences.
Another goal of this guide is to contribute to the promotion of a sustainable and environmentally conscious tourism. Coherent to this line of thought, the routes are not designed to be accessed by private car, but rather by public transport, preferably the train, because of their bike transportation convenience. As an exception, I have relied on the coach for a number of areas that unfortunately lack the train service, but nonetheless deserve an itinerary due to their appeal. Finally, a number of routes rely on the boat on some stretches, allowing us to admire the most valuable treasures of our province from a different perspective: the coast and the Mediterranean.
But the routes are not designed only for the weekends. Surely more than one cyclist will find these tranquil tours between towns suitable for going to work or carry out their daily activities.
Many times I have had to go back and redesign a route. The frantic urban and road development that the province has undergone especially along the coast during the last years has forced some partial modifications or even complete deletion. In some cases, and despite lowering the quality of the scenery, I have chosen to leave them as they are so as to serve as a reflection on the urban abuse to our province.
As a result of this, at the time of publishing this guide it is possible that some itineraries may have been affected by a number of changes. For that reason, I ask the reader to kindly inform us (mambient@dip-alicante.es) so as to correct them at a future chance.
After riding more than 3.000 kilometres on bike, I am confident that the itineraries meet the objectives set forth to a high degree. By using them you may come closer in a harmonious way to places that still keep their charm alive and that we must help preserve. So, jolly pedalling!
Lorenzo López García