GUIDE OF TOWNS AND PLACES OF INTEREST

Arrange list of places:
alphabetically
/
geographically
* List classified by alphabetical order
* List classified by geographical order
Agost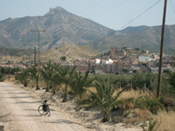 Agost.
Population of 4,723. The base of its economy was handcraft pottery industry. Today only 3 factories of them still stand; the rest have disappeared or have become brick factories. Dry farming, especially table grapes, has also been the second source of income. There are traces of inhabitation of Iberian & Roman times. Its highest development took place in the Arabic epoch thanks to the exploitation of clay for the pottery industry. In 1296 it was handed over from the Kingdom of Castile to the Kingdom of Valencia.
Platos típicos: Rice with rabbit, cocas de sardina y cebolla (sardine and onion patties), meat & vegetable stew, gazpacho manchego (traditional stew made of rabbit, hare or quail and eaten with bread).
Lugares para visitar: El Rugló recreational area, trails of Barranc del Arc, the castle ruins, the parish church of Saint Peter (S. XVII), Museum of El Botijo.
Fiestas: 24th January, in honour of la Madre de Dios de la Paz, with religious acts, floral tribute and processions. At the beginning of March, "Día de la Vella", sticking posters criticizing customs, and tasting of typical dishes. In June, Moors & Christians in honour of San Pedro. TOWN COUNCIL: 965 691 479.