Routes

Route 1: Teulada - Teulada (Page 1 of 2)
Route Card

Download in PDF format
Download GPS track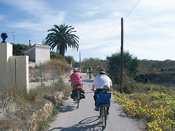 Access by train:Teulada Station.
Difficulty: Low.
Drop: 100 m.
Distance: 7,15 km.
Type of terrain: 5,23 km asphalt and 1.92 km earth.
Train schedules: www.fgvalicante.com or Tel. No.: 96 5 262 731.
Cartography: Spain's Military Map, scale 1:50,000, pages 30-32.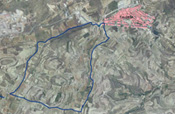 Route Map.

Cycling across the fields of Teulada and Benissa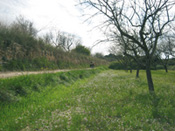 Fields of Teulada.This short route is designed for those with little cycling experience. You will be able to experience and get the feel of how routes of this kind are, and then plan longer distances. One attraction is that this route goes through a series of wells remains, giving us the chance of a firs-hand approach to how water was extracted until relatively recent times with small wind mills.
Next page