How to use this guide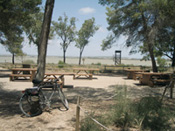 So that everything may "run smoothly", we recommend following these suggestions so as to make your excursion a more enjoyable one:
Before embarking on a route it is important to carefully read the related description and study the route map. This way you will know what to expect and prevent any nasty surprises.

For those who are not too familiar with the bicycle or wish to cover the routes with their families, I recommend starting with a short route, for example route 1. This will allow you to experience all the features to be found in them, such as dirt and asphalt tracks, climbs, roads, etc… You will also confirm the state they are and better calculate the time required to complete other routes later. The time duration has not been included in the technical data as it largely depends on the pauses made, detours, site visits, etc.

Parents have to decide if their children can complete the routes. The best thing is they check it by themselves before going out with the family. In any case, we recommend using a chair or a trailer for your small children.

The level of difficulty indicated for the routes (low, medium or high) refers mostly to the terrain type and drop, rather than the distance. Of the 24 routes, 14 are low-difficulty, 9 medium and 1 high.

As already mentioned, one objective of the guide is to awaken the interest in our lands, our culture, our people and traditions. Due to lack of space, however, the related information included is condensed. For this reason, in order to take advantage of the itineraries and to best enjoy them, it would be convenient to expand your knowledge by reading some before heading out for a place you will be visiting. There are a number of festivities, markets and carnivals that we can come close to and know with our bike. Why not plan it in such a way that our routes coincide with them? The variety of landscapes proposed is also very adequate for planning didactic or educational tours that should promote the respect for nature or environment knowledge. The bibliography included at the end can help develop this possibility.

It would be a good idea to adjust the distance meter before starting, and always stop it at the places indicated so as to prevent any discrepancy. But also in this case, the map, the pictures and the descriptions provide us with much information to continue without problem. Unless otherwise indicated, a straight route shall be maintained. Should you get lost, the best thing is to return to the last located spot. Taking into special consideration those who are new to cycle tourism, and even at risk of falling into the extreme, I have opted to describe the routes in a most detailed fashion.

I usually mark the start of a route, but in some instances the users have to find their way to get there. My intention is to add a little fun and activate your exploration skills at the time of working out the starting point. In addition, by making enquiries and asking for directions we may discover new aspects of the people and achieve a more direct and friendlier rapport with the locals, also an objective of this guide. For this reason I omit any description upon entering the towns, to allow everyone the freedom to carry out the visit the way they wish to. Especially for foreigners, to whom this guide is also dedicated, this would be an interesting form to practice their Spanish by asking for the streets and places they wish to visit.

During rainy weather, consider that especially the dirt roads may be impassable due to mud.

Although the routes spread 90% through lightly busy roads you must always remain cautious. In a number of routes, there is no other chance but to complete it by going through heavier traffic, at which time we must be even more cautious.

As a complement to this publication, you can also find the included cycle tourist routes on the official web page of the Diputación de Alicante's Environment Department, http://medioambiente.ladipu.com/.