Routes

Route 9: Benissa - Gata de Gorgos (Page 1 of 2)
Route Card

Download in PDF format
Download GPS track
Access by train: Benissa Station.
Difficulty: Medium-high.
Drop: 150 m.
Distance: 13.76 km.
Type of terrain: 10.55 km asphalt and 3.21 km earth.
Train schedules: www.fgvalicante.com or at Tel. No.: 965 262 731.
Cartography: Spain's Military Map of, scale 1:50,000, pages 30-32.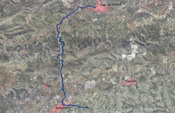 Map of the route.

From Benissa to Gata de Gorgos, through Paso de la Garganta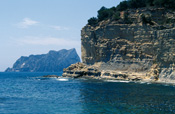 Gata Cliff.This route connects Benissa and Gata de Gorgos through the narrow pass between the mountains that separates these two towns, full of life and history. The route is a short one, although difficult in stony stretches. The only down side is that it is close motorway AP-7, whose route also passes through this gorge. As we ride, we will admire the remains of many a terrace built in old times along the mountainsides to expand the farming lands, as well as the traditional Òrius-rausÓ. The natural Mediterranean vegetation harmoniously combines with almond tree fields and vineyards, making this a most pleasant route to enjoy peacefulness and contact with nature.
Next page