Routes

Route 8: Dénia - Gata de Gorgos - Jalón - LLíber - Senija - Benissa (Page 1 of 2)
Route Card

Download in PDF format
Download GPS track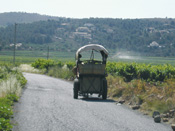 Access by train: Dénia Station.
Difficulty: Medium.
Drop: 250 m.
Distance: 33.11 km.
Type of terrain: 26.48 km asphalt and 6.63 km earth.
Train shcedules: www.fgvalicante.com or at telephone: 965 262 731.
Cartography: Spain's Military Map, scale 1:50,000, pages 30-31 & 30-32.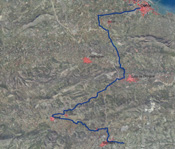 Map of the route.

Biking along the valleys of Llíber and Pop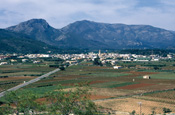 Jalón.Just a few kilometers off the coast, a number of colourful valleys such as the Llíber and the Pop Valleys can be found. We will come close to them by going upstream the Jalón-Gorgos river. As we merge ourselves into the scenery we will discover barnyards, ancient wells, sheds and farm houses, some of them already in ruins, giving us the impression that time has not elapsed. Then we arrive at Jalón, where we can recharge our batteries visiting the wineries, tasting the traditional spiked must or the modern wines that are made here. This is an ideal route for a Saturday, when the populous and interesting antiques market takes place. Also, Jalón has other attractions such as the stately town houses or the Ethnologic Museum. After visiting the other two viticultural villages, Llíber and Senija, we arrive at Benissa, where its interesting old quarter will surprise us.
Next page