Routes

Route 7: Dénia - Ondara - Beniarbeig - Tormos - Pantano de Isbert - Orba - Pamis - Ondara - Dénia (Page 1 of 2)
Route Card

Download in PDF format
Download GPS track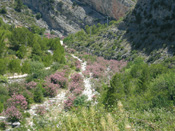 Access by train: Dénia Station.
Difficulty: Medium (except 400 m of high difficulty along the river bed).
Drop: 250 m.
Distance: 49.21 km.
Type of terrain: 39.36 km asphalt y 9.85 km earth.
Train schedule: www.fgvalicante.com or at Tel. No.: 965 262 731.
Cartography: Spain's Military Map, scale 1:50,000, pages 30-31, 30-32.
Notes: Take a torch or lights.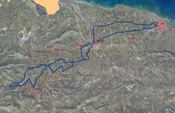 Map of the route.

The forgotten dam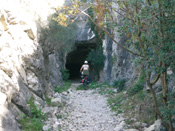 Pedalling among orchard fields we will go along Valle de la Rectoría, made up by the towns of Benidoleig, Ràfol d'Almunia, Sanet i Negrals and Tormos. From the latter, following the Girona river bed, among pine tree forests and rocky formations, we will access one of the most attractive spots in this region: Isbert dam, built on a narrow and spectacular gorge with vertical walls reaching almost 100 meters in height. Its builders, however, omitted one small detail: the water seeping into the soil makes it impossible to dam up, a reason why the dam of Isbert has appeared on maps only since then.
Next page