Routes

Route 5: Dénia - Els Poblets - El Verger - Beniarbeig - Pamis - Ondara - Dénia
(Page 1 of 2)
Route Card

Download in PDF format
Download GPS track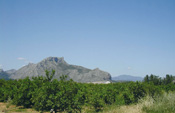 Access by train: Dénia Station.
Difficulty: Low.
Drop: 45 m.
Distance: 25.60 Km.
Type of terrain: 23.40 km asphalt y 2.20 km earth.
Train schedules: www.fgvalicante.com or at telephone: 965 26 27 31.
Cartography: Spain's Military Map, scale 1:50,000, pages 30-31 & 30-32.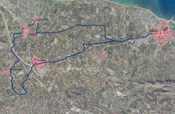 Map of the route.

La Cara del Indio
This route brings us closer to the emblematic mountains of Sierra de Segaria, known by the locals as "Cara del Indio" as it shape evokes a face profile. Through rural roads, among orchard fields, we will visit cosmopolitan towns such as Els Poblets and others that remain alien to touristic life such as El Verger, Pamis or Ondara.
Next page