Routes

Route 24: Gandía - Oliva - El Verger - Dénia (Page 1 of 2)
Route Card

Download in PDF format
Download GPS track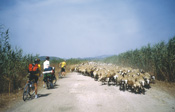 Access by bus/train: Gandía.
Return by train: Denia FGV Station.
Difficulty: Low.
Drop: 60 m.
Distance: 32.48 km.
Type of terrain: 24.43 km asphalted & 8.05 km earth.
Train schedules: www.renfe.es or at Tel. No.: 902 24 02 02 • www.fgvalicante.com or at Tel. No.: 965 262 731.
Bus schedules: www.alsa.es or at Tel. No.: 965 520 562.
Cartography: Spain's Military Map, scale 1:50,000, sheets 30-31.
Note: Take binoculars.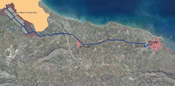 Map of the route.

Along La Sabor Greenway and the El Marjal de Pego-Oliva Natural Park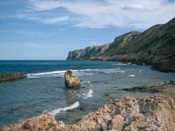 Las Rotas.This comfortable route from Gandía to Dénia takes us first along the former railway platform Denia- Carcaixent, now turned into a Green Way. Surrounded by orange trees and with the pleasant smell of orange blossom if we make it in February or March, we will reach Oliva, which will surprise us with its interesting old quarter, full of history. Our itinerary goes through one of the most relevant natural spaces of Eastern Spain: El Marjal de Pego-Oliva Natural Park, where we will be able to enjoy quietness and the beautiful nooks it hides away. On hot days, we can take advantage of this to take a bath in the clear waters of the river Bullent or in the ones of Font Salada, known for its medicinal properties. Finally, after visiting El Verger, our route ends up in Denia at the foot of the emblematic mountains of the province: El Montgó.
Next Page