Routes

Route 23: Cocentaina - Muro de Alcoy - Gaianes - Beniarrés - Lorcha - Villalonga - Potríes - Beniflá - Beniarjó - Real de Gandía - Gandía
(Page 1 of 2)
Route Card

Download in PDF format
Download GPS track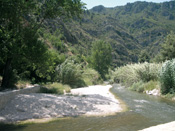 Access by bus/train: Cocentaina.
Way back by bus/train: Gandía.
Difficulty: Medium.
Drop: 400 m.
Distance: 45.49 km.
Type of terrain: 25.34 km asphalt & 20.15 km earth.
Train schedules: www.renfe.es or at Tel. No.: 902 24 02 02.
Bus schedules: www.subus.es or at Tel. No.: 965 520 562.
Cartography: Spain's Military Map, scale 1:50,000, sheets 29-31, 29-32 & 30-31.
Note: Carry a torch.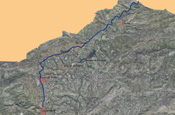 Map of the route.

Along the former Xixarra railway track and the barranc de l' Infern
El Serpis Greenway.A large part of this route takes place on the train's former layout which linked Alcoy and Gandía, some laps of which are today country lanes of secondary roads. El Xixarra, as it was popularly known, started its running back in 1892 and remained operative until 1969 when was forced to stop its activity due to its low profitability. From Cocentaina, in the interior of Alicante province, the route takes us across beautiful and spectacular mountain landscapes as far as reaching the pre-littoral plain of the Safor region, in the province of Valencia. Doubtless, one of the most interesting laps is the Racó del Duc or the Barranc de l' Infern, where the Serpis river has dug an impressive canyon we will walk along, going through tunnels and a unique landscape in the area. Surrounded by orange trees, we will finish the stage in the home city of the Borgias: Gandía. From there on, we may come back by train/bus to our starting points or get linked to the last stage of the Alicante journey.
Next Page