Routes

Route 22: Castalla - Ibi - Alcoy (Page 1 of 2)
Route Card

Download in PDF format
Download GPS track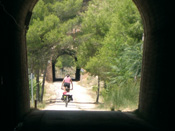 Access by bus: Castalla.
Return: By bus or by train from Alcoy.
Difficulty: Medium.
Drop: 290 m.
Distance: 30.03 km.
Type of terrain: 16.07 km asphalted & 13.96 km earth.
Train schedules: www.renfe.es or at Tel. No.: 902 24 02 02.
Bus schedules: www.subus.es or at Tel. No.: 965 520 562.
Cartography: Spain's Military Map, scale 1:50,000, sheets 28-33, 29-32 & 29-3.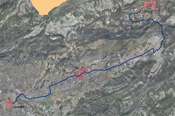 Map of the route.

Along the Hoya de Castalla and Alcoy's Greenway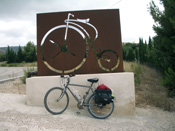 Starting off from Castalla, we start pedalling along country lanes that lead us among almond and olive trees as far as the toy capital city: Ibi. From here on, we keep along the former layout of the Alcoy-Alicante railway, adapted for a short lap as greenway, and then as cycle route linking us to the most beautiful and spectacular part of the journey: Alcoy's Greenway. This train track - had it not been for the civil war, the train would be a real fact now Ð allows us to enjoy today of arranged laps as the one we are going to follow. Among luxuriant pine tree groves and going through as many as eleven tunnels, we reach a gentle, 12-km long downward slope as far as this locality. After visiting its interesting old quarters, we can come back by train or by bus to our starting point, or else, link to the following route if we are touring around Alicante.
Next Page