Routes

Route 21: Sant Joan d'Alacant - Santa Faz - San Vicente del Raspeig - Agost - Castalla (Page 1 of 2)
Route Card

Download in PDF format
Download GPS track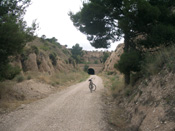 Access by train: Stop at Muchavista del TRAM.
Return by bus: Castalla.
Difficulty: Medium.
Drop: 675 m.
Distance: 60.64 km.
Type of terrain: 34.61 km asphalted and 26.03 km earth.
Train schedules: www.fgvalicante.com or at Tel. No.: 965 262 731.
Bus schedules: www.subus.es or at Tel. No.: 965 520 562.
Cartography: Spain's Military Map, scale 1:50,000, sheets 28-33, 28-34 & 29-34.
Note: Carry a torch.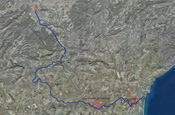 Map of the route.

From the coast to the interior of the province along the Maigmó Greenway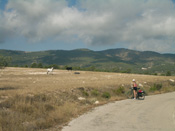 This route takes us from Muchavista Beach to Castalla, in the full interior of the province. In the first part, we will pedal around a built-up area, which links the municipalities of Sant Joan d'Alacant & San Vicente del Raspeig thanks to a gorgeous cycle lane. Near Agost, we take Maigmó Greenway which leads us across arid lands as we gather height, almost without noticing it, beholding splendid views of all the shoreline as far as the Maigmó slopes, Alicante's lung. On the last stage, we will ride across Hoya de Castalla, where farmlands and some pine forests alternate, surrounded by mountain ranges as the Manejador, the Peña Roja or the Castalla Mountains. This route can also be envisaged in combination with the following three to make a several-day journey around the province.
Next Page