Routes

Route 2: Gata de Gorgos - Font de La Rana - Olivo milenario - Jesús Pobre - Gata de Gorgos (Page 1 of 2)
Route Card

Download in PDF format
Download GPS track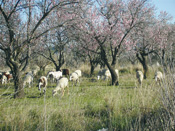 Access by train: Gata de Gorgos Station.
Difficulty: Low.
Drop: 80 m.
Distance: 13.02 km.
Type of terrain: 10.41 km asphalt and 2.61 km earth.
Train schedules: www.fgvalicante.com or at Tel.No.: 965 262 731.
Cartography: Spain's Military Map, scale: 1:50,000, pages 30-32.

Route map.

Bicycling across the fields of Gata de Gorgos and Jesœs Pobre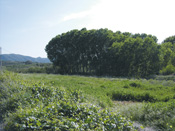 Chopera.This simple tour apt for all the family brings us closer to the towns of Gata de Gorgos and Jesœs Pobre, peacefully going through the surrounding vineyards, almond, olive and carob trees. The route is a voyage in time in which we can imagine the way of life of the zone settlers, through the historical remains that we will find along the way: ancient water wells, wind mill ruins Ðso numerous and necessary until recently when cereals were the main crop. We will also discover delightful places for relaxing such as the Font de La Rana or the ancient millenary olive tree.
Next page