Routes

Route 19: Sax - Salinas - Pinoso (Page 1 of 2)
Route Card

Download in PDF format
Download GPS track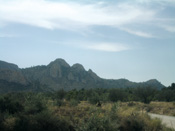 Access by train: Sax Station.
Return by bus: Pinoso.
Difficulty: Medium-high.
Drop: 130 m.
Distance: 38.39 km.
Type of terrain: 27.21 km asphalted and 11.18 km earth.
Train schedules: www.renfe.es or at Tel. No.: 902 24 02 02.
Bus schedules: www.alsa.es or at Tel. No.: 902 240 202.
Cartography: Spain's Military Map, scale 1:50,000, sheets 27-34 & 28-34.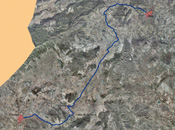 Map of the route.

Among vineyards, salterns and pine trees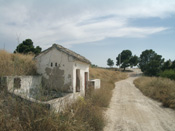 A fountain with a pool.At the beginning of the route we behold the magnificent views of the Vinalopó Valley from the slopes of the Cabrera Mountains. Then gentle descents await us as far as las Salinas lagoon, the best specimen of an endoreic lakeside area in the province of Alicante (with no exit to the water drainage). We can find in it vegetal species adapted to the strong salinity of the land, as the shrubby Russian thistle, the small cordgrass, the opposite leaved saltwort, the alkali seepweed, the soapwort and the grey saltbush. As for birds, and depending on the season, we can see the stork, the avocet, the royal eagle, the Bonelli's eagle, and in wetter seasons, the various kinds of heron and even the flamingo. Several cycling paths and routes stem from Pinoso, which get us closer to the great environmental and landscape richness of Mount Coto and El Cabezo. As it is impossible to discover everything in one day, and given the low frequency of buses from Pinoso, it is highly recommended to do the route in two or three days in combination with the route Pinoso-Monóvar-Elda, where we can come back by train from.
Next Page