Routes

Route 18: Xixarra green way: Villena - Las Virtudes - Santa Eulalia - Sax
(Page 1 of 2)
Route Card

Download in PDF format
Download GPS track
See track in Wikiloc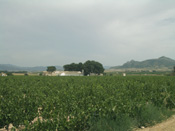 Access by train: Villena Station.
Difficulty: Low.
Drop: 90 m.
Distance: 25.51 km.
Type of terrain: 17.31 km asphalt & 8.20 km earth.
Train schedules: www.renfe.es or at Tel. No.: 902 24 02 02.
Cartography: Spain's Military Map, scale 1:50,000, sheets 27-33 & 28-33.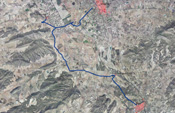 Map of the route.

Along the Xixarra Greenway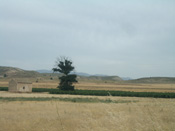 We will pedal in the first part of this route along the platform of the extinct train line that operated between Yecla and ViIllena, the popular Xixarra, reconverted today into a Greenway. This greenway includes the environmental itinerary of Miramontes, a short but interesting route that takes us close to the Pe–alva salterns and will help us know the geology and the various plant species that live in this semi-arid area. After a visit to the site and the Sanctuary of Las Virtudes, the route takes place between fields and large farm houses, where we will feel charmed by silence and solitude. Later on, we will get next to a peculiar town, (la Colonia de Santa Eulalia) and we will stop before arriving to Sax, in the recreational area of El Plano, where another itinerary clearly signposted introduces us to the geology of the scrubland.
Next Page