Routes

Route 14: Orihuela - Guardamar del Segura - Orihuela (Page 1 of 2)
Route Card

Download in PDF format
Download GPS track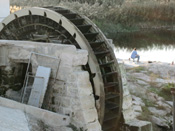 Access by train: Orihuela Station.
Difficulty: Low.
Drop: 30 m.
Distance: 28.53 km (go).
Type of terrain: 0.53 km asphalt and 28 km earth.
Train schedules: www.renfe.es or at Tel. No.: 902 24 02 02.
Cartography: Spain's Military Map, scale 1:50,000, pages 27-36, 28-36.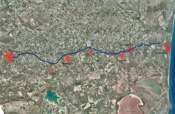 Map of the route.

From Orihuela to Guardamar del Segura along the Segura river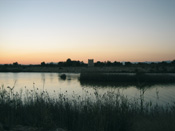 Dusk at Guardamar del Segura.Running along the Segura river right shore, this simple, comfortable route takes us through beautiful landscapes and brings us close to towns such as Benejœzar, Formentera del Segura and Rojales, located along its riverbed. We will see waterfowl, especially moorhens and coots that make this river their home. Explanatory panels brief us about riverside vegetation, and recreational areas are also available where we can make a pause and relax. The road is compacted dirt and closed to motorized traffic, allowing us to peacefully enjoy the scenery.
We suggest making the route in two days, spending the night at Guardamar del Segura, to be able to leisurely visit this town, especially its parks, R‡bita Califal and its very interesting dune chain, one of the most important of the East of Spain. The way back to Orihuela, (that we suggest making along the same shore, as the other one is not completely adapted) offers us another perspective of the route and allows us to appreciate details that may have gone unnoticed the first time.
Next Page