Routes

Route 13: Tabarca - Santa Pola - Salinas de Santa Pola Natural Park - El Hondo Natural Park (Page 1 of 2)
Route Card

Download in PDF format
Download GPS track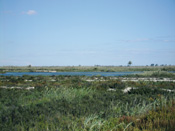 Access by boat: Alicante-Tabarca-Santa Pola.
Difficulty: Low.
Drop: 60 m.
Distance: 38,38 km.
Type of terrain: 25.46 km asphalt and 10.92 km earth.
Boat schedules: Alicante-Tabarca Kontiki, Tel: 965 216 396 / 686 994 538 • Tabarca-Santa Pola, Gola de Guardamar, Tel: 689 123 623.
Train schedules: www.renfe.es or at Tel: 902 24 02 02.
Bus schedules: Alicante-Santa Pola Baile, Tel: 965 925 365 • Subús, Tel: 965 424 242.
Cartography: Spain's Military Map, scale 1:50,000, pages 28-35 and 28-36.
Note: Take binoculars with you.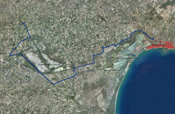 Map of the route.

A cycle route combined with boat and train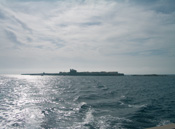 Tabarca.If one-day outings can be relaxing and fun, offering ourselves a weekend to visit the most emblematic natural spaces in the South of Alicante is not less than a luxury not to be missed out. Therefore, an entire weekend is suggested to make this route. Starting off on a Saturday from Alicante, we will travel by boat to the small isle of Tabarca. Here, we can bathe in its crystal clear waters and relish the traditional "caldero tabarquí" at any of its restaurants. On Sunday we once more book a boat to Santa Pola. After visiting this town and Salinas de Santa Pola Natural Park, we arrive at another paradise, El Hondo Natural Park, from where we will return to Alicante by train.
If one day is all we have, we can go by train to Elche and from there go along the CV-865 cycle lane (12 km) to Santa Pola. Another possibility would be looking for a bus to take us straight to Santa Pola.
Next Page