Download itinerary in PDF format
Short Itinerary Trails / P.R.C.V. 48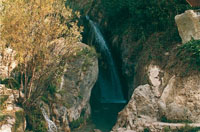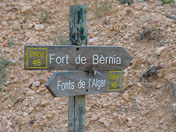 Features
Region: La Marina Baixa - La Marina Alta.
Municipalities: Fonts de L´Algar (Callosa) and Cases de Bèrnia (Xaló).
Responsible Body: Diputación de Alicante. Environment and Solid Waste Area.              
Start: Fonts de L'Algar.
Finish: Font del Runar.
Length: 15.6 kilometres.
Approximate time: 4 hours 5 minutes.
Difficulty: Low.
Cartography: Benidorm 30-33 (848) 1:50,000.
Bibliography: -Montañas de Alicante.
-Calero Picó. Ed. El autor, 1994.
-Topoguía PRV-48. Diputación de Alicante.

Services
Callosa d´En Sarrià Town Council: Tel No.: 965 88 00 50
Mountain and Climbing Sports Federation (Federació d'Esports de Muntanya i Escalada): Tel. No.: 965 43 97 47

Relief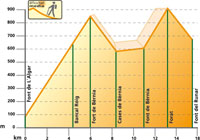 The Bèrnia Mountains is a Subbetic array in the SO-NE direction as far as its maximum height, and then turns to NO-SE orientation as it approaches the sea. It divides the regions of La Marina Alta and La Marina Baixa. It is approximately 9 km. long, and runs along the valley of the Algar river and the Mascarat ravine. The spectacular Paso de los Bandoleros separates it from the Ferrer Mountains. The Bèrnia Mountains is a sharp anticline of lime materials dating back to the Oligocene and the Cretaceous, and made intricate by numerous intertwined faults; looking onto them opens up the Mascarat ravine, an impressive gorge crowned with impressive steep rocky walls which reach their maximum height with Bènia peak (1126 m.)
The trail starts in the high lap of the Fonts de l'Algar. We will go up following the traces of the trail along the Bèrnia Mountains, until we reach the Fort de Bèrnia ruins. From this point, we will head for Casas de Bèrnia to keep on along the Fort de Bèrnia. We will later go through the mountains passing by the Forat, (a narrow tunnel around 20 m. long) and once on the sunny slope, we will go to the Font del Runar.